Following the invitation from Erwan at Petzl I arrived in Grenoble a couple of days before the film festival. So as I had a bit of time to spare there was the chance to either go dry-tooling and try out the new Ergo's or a day sport climbing at Presles. As it was a beautiful day we opted for some bolt clipping. Erwan, Eric and I had a brilliant day out and Erwan clocked up some impressive airmiles.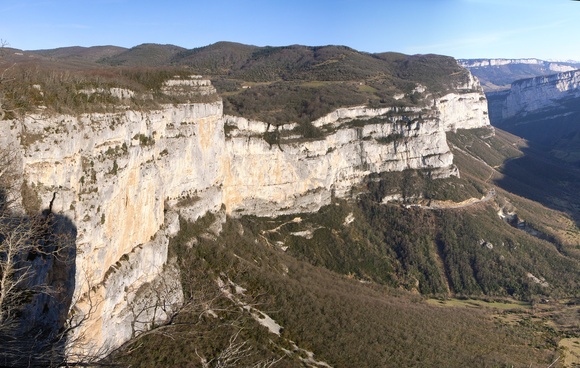 The massive expanse of the Presles valley
This huge gorge is loved by climbers and BASE jumpers alike, Erwan took his rig along so I was hoping to see my first BASE jump, unfortunately it was a too windy. Monday was lashing with rain so I got to go and check out the Petzl Factory and Offices - what an inspiring place to work. As you walk into the building you are surrounded by amazing images, probably every Petzl poster ever printed. The offices are filled with
little groups clustered round their Macbooks designing the next bit of super swanky new kit. (Sadly I didn't manage to steal any shiny kit whilst I was there!)
Late afternoon we went to collect the evening's whisky supplies from the local whisky expert, and were given detailed instructions of the best order to drink them in for maximum effect. Next stop was the station to collect some journalists, we then got a bit lost but arrived at the festival venue just in time to don out kilts and jimmy wigs
 and get serving the whisky.
After the film was shown we (Erwan le Lann, Tony Lamiche, Martial Dumas, Yann Mimet, Mathieu Meynadier and myself) were invited up on stage for a question and answer session. Completely terrifying, 3000 people and I don't speak french! Luckily the host decided that it would probably get lost in translation asking me anything and talked to the others instead!
At the end of the evening everyone who had appeared in the films that night was invited up for a team photo - which meant I got to share the stage with french ice climbing legend Francois Damilano, thankfully by that point we had all decided to get rid of our kilts! I have realised that I don't look good in a skirt and I was jealous of the other boys tanned legs - think I need to spend more time somewhere sunny!
At the aftershow party (rock and roll lifestyle!!) we finished off the whisky. Then when we all got thrown out of the venue headed back to Erwan's house until the early hours. Finding my way back through Grenoble to my hotel proved a challenge and I thought I was going to end up bivvying out in a side street.
A great few days, really good to catch up with the boys again. A
massive
thank you to Erwan and Petzl for the invite, hopefully see them all back in Scotland again soon.
Next day I dashed back to Manchester to go to Mountain Equipment's 50th anniversary celebration night and product launch. A great film about the history of Mountain Equipment's involvement in mountaineering over the last 50 years made by Brian Hall was shown, followed by a "fashion show" of some key garments over the years, and of course the new range for winter 2011. The star turn being Andy Parkin in his original all in one down suit from the '80's. Next up were Dave Macleod and Paul Diffley introducing The Architect, the short version of the Smith Marshall film. Fun evening and looking forward to some of the bright hardshell suits heading our way next year.